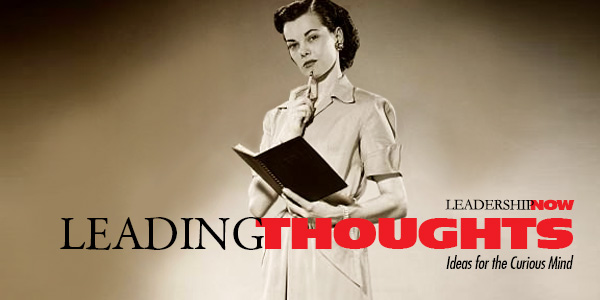 IDEAS shared have the power to expand perspectives, change thinking, and move lives. Here are two ideas for the curious mind to engage with:
I.
Alan Weiss on the fact that most fears are learned as are leadership behaviors, and we have to understand the causes:
"We cannot create improved behavior contingently, that is, simply patching up leaks and putting on band-aids. We have to prevent the fearful behavior in the future by eliminating the probable causes. The therapist's admonition to "face our fears" is really an attempt to find the cause of them."
Source: Fearless Leadership
II.
Brian Resnick on what is reality:
"Our brains work hard to bend reality to meet our prior experiences, our emotions, and our discomfort with uncertainty. This happens with vision. But it also happens with more complicated processes, like thinking about politics, the pandemic, or the reality of climate change."
Source: "Reality" Is Constructed By Your Brain. Here's What That Means, And Why It Matters
* * *
Look for these ideas every Thursday on the Leading Blog. Find more ideas on the LeadingThoughts index.
* * *


Like us on Instagram and Facebook for additional leadership and personal development ideas.

Read more: leadershipnow.com