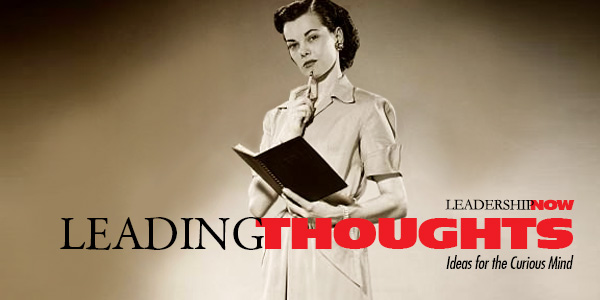 IDEAS shared have the power to expand perspectives, change thinking, and move lives. Here are two ideas for the curious mind to engage with:
I.
Margaret Wheatley on dealing with change and developing new capacities:
"It is possible to prepare for the future without knowing what it will be. The primary way to prepare for the unknown is to attend to the quality of our relationships, to how well we know and trust one another."
Source: "When Change Is Out of Control" in Human Resources in the 21st Century
II.
Brad Stulberg and Steve Magness on the downside of obsessive passion:
"Those who are most focused on reaching some external barometer of success are often the same people who struggle most to enjoy it. That's because they'll always crave more. More money. More fame. More medals. More followers."
Source: The Passion Paradox
* * *
Look for these ideas every Thursday on the Leading Blog. Find more ideas on the LeadingThoughts index.
* * *


Like us on Instagram and Facebook for additional leadership and personal development ideas.

Read more: leadershipnow.com