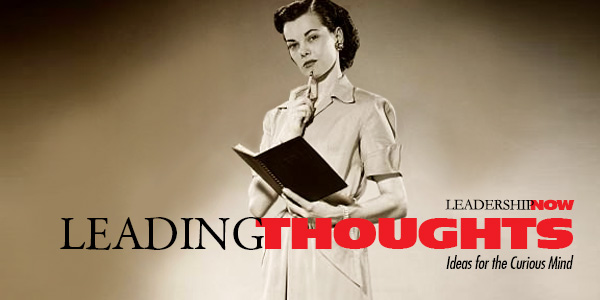 IDEAS shared have the power to expand perspectives, change thinking, and move lives. Here are two ideas for the curious mind to engage with:
I.
Steve Farber on doing what you love in the service of people:
"It doesn't matter whether the leaders are in the front or the rear. What matters is the way they are leading the pack. In either case, the leaders are serving other members. The leaders in the front are forging the path, providing direction, and making it easier for others to go where the pack needs to travel. The leaders in the rear are providing support. They are watching over the pack and ensuring that no one is left behind. There might even be some leaders in the middle of the pack because here's the thing about leaders: they serve others no matter where they find themselves."
Source: Love is Just Damn Good Business
II.
Brad Stulberg and Steve Magness on how our passion can eventually lead us astray:
"Those who are most focused on reaching some external barometer of success are often the same people who struggle most to enjoy it. That's because they'll always crave more. More money. More fame. More medals. More followers.
Researchers have found that regardless of the field, individuals who display obsessive passion are more likely to engage in unethical behavior and are at a higher risk for anxiety, depression, and burnout. Their relationship with their passion is likely to erode, and their overall life satisfaction is poor.
They become so obsessed, so focused on and tied to external results, that nothing else matters. It's not that they are no longer passionate. It's just that they are no longer passionate about baseball, or energy, or leading a company, or scientific discovery. They become passionate about results, fortune, fame, and winning."
Source: The Passion Paradox
* * *
Look for these ideas every Thursday on the Leading Blog. Find more ideas on the LeadingThoughts index.
* * *


Like us on Instagram and Facebook for additional leadership and personal development ideas.

Read more: leadershipnow.com