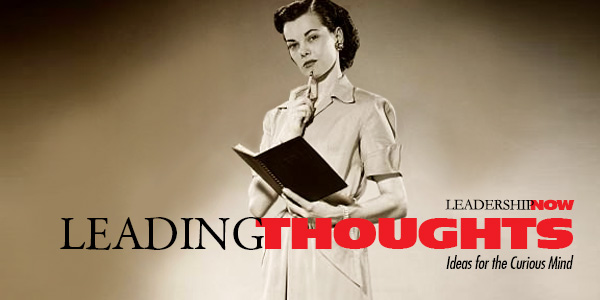 IDEAS shared have the power to expand perspectives, change thinking, and move lives. Here are two ideas for the curious mind to engage with:
I.
Samuel R. Chand, a leadership author and consultant, on disruption:
"A fighter pilot knows he's in the right spot when he's getting anti-aircraft fire. If you're not catching flack for your disruptive idea, you're not over your target yet. Keep flying."
Source: New Thinking, New Future
II.
Michelle King in stressing that gender equality is not about fixing women, but fixing workplaces, says:
"Gender equality is not about raising women up at the expense of men. It is not about making men feel bad or listing all the ways than men need to change. Quite the contrary. It is about creating a workplace that values men and women equally and gives everyone the freedom to be themselves."
Source: The Fix: Overcome the Invisible Barriers That Are Holding Women Back at Work
* * *
Look for these ideas every Thursday on the Leading Blog. Find more ideas on the LeadingThoughts index.
* * *


Like us on Instagram and Facebook for additional leadership and personal development ideas.
Read more: leadershipnow.com