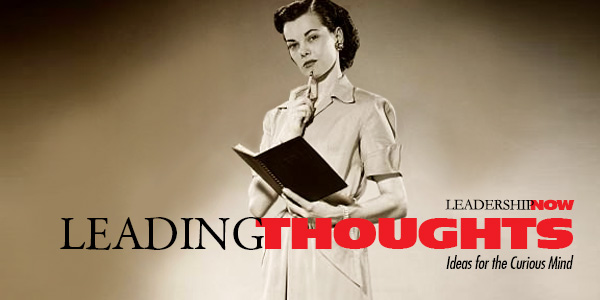 IDEAS shared have the power to expand perspectives, change thinking, and move lives. Here are two ideas for the curious mind to engage with:
I.
Porter Moser, head coach of the Loyola University Chicago men's basketball team, on how to find success:
"How you think is how you feel, how you feel is how you act, and how you act is what defines you. I believe completely in the progression of these three statements. If you're thinking good thoughts, you're going to have a bounce in your step. You're going to act in a certain way. Likewise, if you're thinking negative thoughts, if you have a 'poor me' attitude, that's how people will perceive you."
Source: All In: Driven by Passion, Energy, and Purpose
II.
Jeffrey Hull on being a beta leader:
"Beta is a shift in mind-set from a goal-oriented, top-down figuration to a growth-oriented, process-based one. When we live in beta, we are in flux, always improving, and always aware of the need to disrupt the status quo. Beta means being comfortable in a state of constant growth, not aspiring so much to ascend the hierarchy and dominate from above, but to lead from anywhere, anytime."
Source: Flex: The Art and Science of Leadership in a Changing World
* * *
Look for these ideas every Thursday on the Leading Blog. Find more ideas on the LeadingThoughts index.
* * *


Like us on Instagram and Facebook for additional leadership and personal development ideas.
Read more: leadershipnow.com